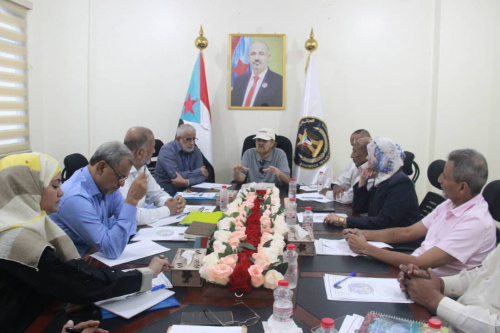 The Supreme Economic Committee (SEC) of the Southern Transitional Council (STC), on Sunday, in the capital Aden, held its periodic meeting for the month of August, chaired by Dr. Mohammed Ali Mattash, head of the SEC.
The meeting focused on the latest economic and service developments, followed up on the implementation of previous assignments, as well as the SEC's activities and role during the period that separates the two meetings.
The meeting discussed the topics on its agenda, including standing before the water report, which proposed several immediate and future solutions to boost food security, assist and strengthen the role of farmers by giving special care to wheat cultivation as a step towards reaching self-sufficiency.
The meeting touched on a report prepared by the Committee of Transportation regarding the improvement of service at Aden International Airport and other airports, and suggestions that could lead to enhancing its proper operation were raised.