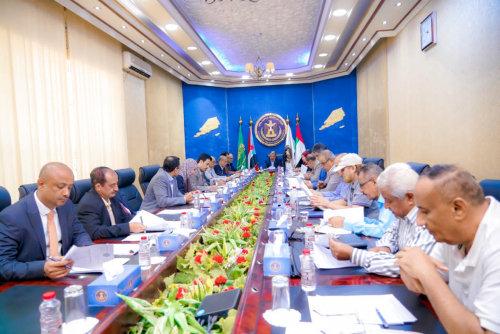 The Presidency of the Southern Transitional Council (STC), in its meeting held on Saturday morning, headed by Major General Ahmed Saeed Ben Brik, Chairman of the National Assembly, reiterated the importance of Houthi militias' compliance with the obligations and paradigms of the UN-mediated truce as a pivotal condition to renewing it in the future.
The STC's presidency emphasized that the future of extending the truce rests on the extent to which the Houthi militias' compliance with implementing all the commitments included in the truce agreement, highlighting that the militias' continued failure to comply with their commitments jeopardises the chances of renewing the truce in the future.
In the same context, the presidency renewed its call to the UN Special Envoy of the Secretary-General, Mr. Hans Grundberg, to present a framework for a comprehensive solution to the crisis that includes the whole commitments agreed by all the parties.
In a separate context, the presidency in its meeting stood before the latest political, economic, and media developments on the local scene, affirming its support for all the presidential decrees recently issued by the Presidential Leadership Council (PLC), likewise, stressing the importance of conducting broad and urgent reforms in the economic aspect that contribute to reviving the economy and saving the local currency from collapsing, and putting an end to the high-rocketing prices.
In this regard, the presidency called on the power-sharing government to expedite implementing extensive reforms in economic institutions, foremost of which is the Central Bank; restructuring and activating economic and supervisory bodies, most notably the Supreme Economic Committee, the Central Organization for Control and Auditing, and the Supreme National Anti-Corruption Commission (SNACC) and reforming financial, monetary, and administrative policies, as well as obligating the local authorities in all governorates to collect and provide the revenues to the central bank, and address administrative and security deterioration and deficiencies at land ports to boost tax and customs revenues.
In another context, the presidency of the STC has demanded the power-sharing government to perform a quick and transparent investigation into the corrupted shipment of vaccinations for the Corona epidemic that was dispensed by the Ministry of Health to Al-Dhalea Governorate, stressing the importance of disclosing the parties standing behind this crime to be held fully accountable.
The meeting touched on the reality of the media in the capital Aden, as the presidency accentuated the need for the official media, led by Aden Radio and Television, to return to work from the headquarters in the capital Aden, in the context calling on the PLC to fulfill its role in this aspect and to ease any encountered difficulties.
The presidency, too, discussed the unbalances in the education and ways and mechanisms to find ultimate solutions in line with the STC's orientation to improve and boost the educational process throughout the South.