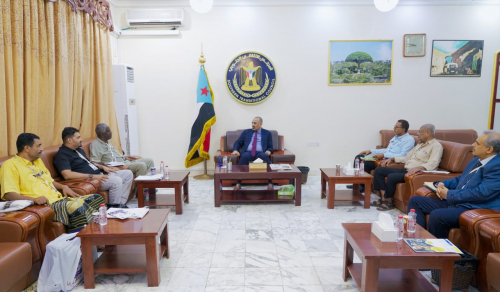 The president Aidarous Qassem Al-Zubaidi, President of the Southern Transitional Council (STC), Deputy head of the Presidential Leadership Council, on Thursday, in the STC's headquarters, in the capital Aden, met with the heads of the Fisheries and Agricultural Cooperative Unions Mr. Salem Omar Qambit, Mr. Saleh Musa'ed Al-Amir, and several officials in the two unions.
In the meeting, the president listened from the officials of the two unions to a satisified explanation of the ongoing efforts to revive the fisheries and agricultural sectors in our country, and major difficulties encountering their activities, affirming his full support for the two unions, and his readiness to ease any obstacles hindering their progressing work.
The president Al-Zubaidi stressed the importance of cooperative unions in general, and fisheries and agricultural unions in particular, to assume their responsibilities in organizing these vital sectors that have a direct connection to the citizens' life, as well as rehabilitating and strengthing the foundations of productivity under its authority, according to strategic plans and sustainable projects that contribute to maintain a stable-supply and economic stability in the country.
In turn, the heads of the Fisheries and Agricultural Unions expressed their thanks and appreciation to the president Aidarous Qassem Al-Zubaidi for the high interest he attaches to activities of the cooperative unions, and his constant keenness to ease difficulties encountering their work, confirming the readiness of members of the two unions to exert utmost efforts to activate the role of the two unions and to implement the assigned tasks with high efficiency and competence.