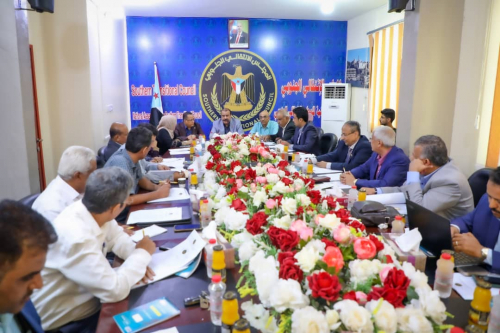 Major General Ahmed Saeed Ben Brik, Chairman of the National Assembly of the Southern Transitional Council (STC), on Sunday, met the External Southern National Dialogue Team (ESNDT) and the Internal Southern Dialogue Team (ISDT).
In the meeting, which was attended by several members of Presidency of the STC; Dr. Naser Al-Khubaji, head of the Negotiations Unit, Dr. Suhair Ali Ahmed, Brigadier General Pilot Naser Al-Sa'adi, Mr. Saeed Sa'adan and the Administrative Body of the National Assembly, Major General Ben Brik reviewed path of the southern dialogue both at home and abroad with the southern national forces, in addition to its role in establishing fundamentals of the cause of the South since it will be culminated by signing a national code of honour that can be perceived as an evidence of successfulness fulfilled in the dialogue, and a high achievement of an exemplary political round.
Similarly, Major General Ahmed Saeed discussed results of the Southern National Dialogue both at home and abroad, and the importance of coordination between the two teams, as well as the orientations of future work and the need of goodwills, and preparing preliminary procedures to encourage the various political forces to effectively engage in this dialogue.
During the meeting, Dr. Al-Khubaji delivered a speech, in which he stressed the importance of integrating the two dialogue teams at home and abroad to conduct a deep dialogue; emanating from specific and transparent fundamentals and principles.
In turn, Dr. Saleh Mohsen Al-Haj, deputy head of the ESNDT, gave a clear and concise explanation on the stages of the Southern Dialogue and the achieved success that its benefits can positively be poured into the interest of the southern cause.
To the end of the meeting, the attendees have agreed on forming a committee headed by Ambassador Qassem Askar, Member of the ISDT, representative of the General Directorate for Foreign Affairs (GDFA) of the STC in Ethiopia and the Horn of Africa, to work on documenting the course of dialogue and preparing to submit the discussed recommendations to Presidency of the STC to boost dialogue and its working mechanisms in the future.
The meeting was attended by Ambassador Ahmed Ali Hussein, chief advisor to GDFA, Mr. Mohammed Al-Ghaithi, director of GDFA , Mr. Abdul-Salam Qassem Al Sa'adi, head of office of the STC in the USA, several members of the ESNDT and ISNDT and Mr. Ahmed Qassem, head of office of chairman of the Assembly.