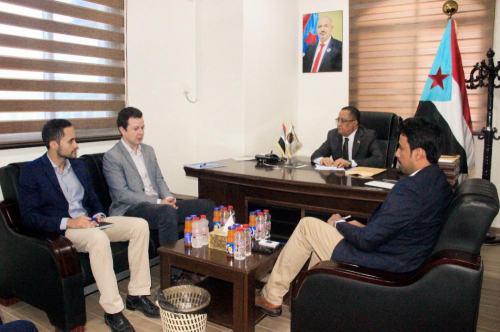 Dr. Naser Al-Khubaji, member of Presidency of the Southern Transitional Council (STC), head of the Negotiations Unit, received, on Thursday, in his office, in the capital Aden, Mr. Peter Rice, Head of Office of the UN Special Envoy and Mr. Tim Azzawi, the Political Affairs Officer.
The meeting discussed the exerted efforts by the UN envoy to extend the truce and launch the comprehensive peace process, in this regard, Dr. Al-Khubaji reaffirmed the necessity of establishing a specific negotiating framework for cause of the South within the negotiations of comprehensive political solution.
The meeting touched on the importance of forming a shared-negotiating delegation, and the urgent need to expedite finding solutions to the dire humanitarian and critical economic conditions in the South and Yemen, as well as Houthis have to be obligated to implement whatever contained in the agreement that is near completion.
For his part, head of Office of the UN Special Envoy, Mr. Peter Rice, affirmed the concern of the UN envoy; Mr. Hans Grundberg for the negotiating process to reach a comprehensive political solution with the participation of all parties, foremost of which is the STC.
The meeting was attended by Mr. Mohammed Al-Ghaithi, director of the General Directorate for Foreign Affairs (GDFA) of the STC.