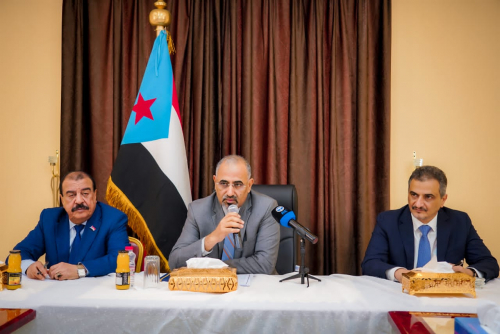 The president Aidarous Qassem Al-Zubaidi, President of the Southern Transitional Council (STC), on Sunday, chaired an expanded meeting of Presidency of the STC, heads of committees and departments in the National Assembly and the General Secretariat, local leadership executive bodies in the governorates, Centers and Specialized committees of the STC.
At the begining, the president Al-Zubaidi welcomed the esteemed attendees, and emphasized the importance of this meeting in evaluating the work of the STC over the past five years, to maintain what has politically and militarily been achieved for the South, removing shortcomings and correcting deficiencies.
The president stressed the need to work on implementing the outcomes of Riyadh agreement and consultations, which have elevated the South to a new political and military situation, as well as effectuating the recommendations and decisions contained in the final statement of the fifth session of the National Assembly, as a roadmap for the current stage.
In the context of his speech, the president reviewed the project of restructuring the STC's bodies, and draft of upgrading and updating its organizational structure, higglighting that project and draft have now become a necessary to cope with developments of the stage, accelerate the pace of work, and activate the role of all bodies to accomplish the assigned tasks with efficiency and competence.
In the same context of his speech, the president touched on the political, military, economic and development conditions, and efforts to firmly enhancing the course of the institutional work in the capital Aden, and the other governorates of the South, noting that there are immense efforts being made in all fields whose results will be felt in the short, medium, and long term.
After that, the president Al-Zubaidi, Major General Ahmed Saeed Ben Brik, Chairman of the National Assembly, Mr. Ahmed Hamed Lamlas, minister of State, governor of the capital Aden
and Mr. Fadl Al-Jaadi, Deputy Secretary-General, listened from the attendees to a set of suggestions and enquiries regarding axes and topics of the meeting whilst presenting appropriate clarifications.