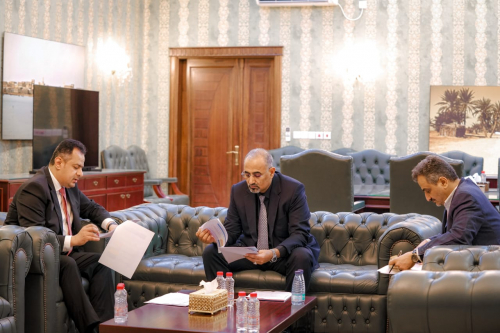 The president Aidarous Qassem Al-Zubaidi, President of the Southern Transitional Council (STC), Deputy head of the Presidential Leadership Council, directed the power-sharing government to quickly impelement the matrix of projects related to urgent needs and top priorities in the capital Aden and the liberated governorates, to accommodate the pledges made by the official brothers in the Kingdom of Saudi Arabia and the United Arab Emirates.
The president Al-Zubaidi, chaired a meeting on Saturday that included the prime minister, Dr. Muaeen Abdul-Malik and minister of State, governor of the capital Aden Mr. Ahmed Hamed Lamlas, at Ma'ashiq Palace, emphasized the importance of preparing a matrix of projects in accordance with the urgent priorities for development of the capital Aden, availing the basic service that directly touch the citizen's life, achieving food security, boosting a means of livelihood, restoring economic recovery, consolidating role of the private sector, and providing an environment that attractives investment opportunities.
In the meeting, the president was briefed by the Prime Minister on the efforts made to rehabilitate the infrastracture in the capital Aden, and its plan to launch implementing strategic projects in the field of gas power-generating, and maintenance and repairing roads, foremost of which is the sea road linking districts of Khormaksar and Al-Mansoura in Aden, as well as other roundarounds of the Textile Factory, Caltex and Cairo.
Likewise, the president was acquainted with the measures taken by the government to receive the pledges provided by the official brothers in the Kingdom of Saudi Arabia and the United Arab Emirates through the Arab Monetary Fund, stressing on expediting the procedures due to its importance in stabilizing the value of the local currency, and creating the economic recovery.