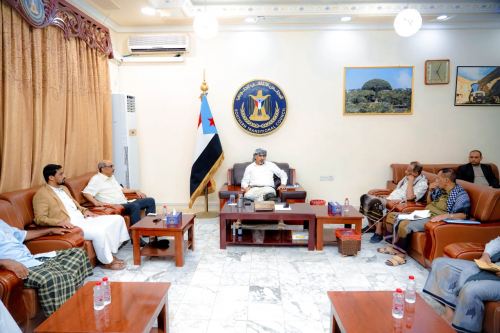 The president Aidarous Qassem Al-Zubaidi, President of the Southern Transitional Council (STC), on Thursday, met members of the National Assembly of the STC in Al-Mahra governorate, who are participating in the fifth session of the Assembly that concluded its work on Wednesday, June 22, 2022.
During the meeting, which was attended by Mr. Saeed Sa'adan, a member of Presidency of the STC, Dr. Salem Ali Al-Qumairi, head of the Local Leadership Executive Body of the STC in Al-Mahra governorate, and his deputy, Mr. Hassan Mahdi Balhaf, the president Al-Zubaidi was briefed by the esteemed attendees on the overall situation in Al-Mahra, foremost of which are the military, security and humanity conditions, as well as troubles and difficulties encountering people of the governorate in all fields.
The president Al-Zubaidi also listened to a brief explanation on the activities and achievements of the local leadership in the governorate and its districts during the last period, in addition to the plans and programs that are goining to be implemented in the second half of this year 2022.
The president urged the leaders of the STC and members of the Assembly in Al-Mahra on effective presence to find and ask repeatedly for concerns of the citizens, and actively contribute to any activities or actions that would alleviate the suffering of citizens in the whole governorate, and particularly in rural and desert districts that are deprived of the basic necessities of life.
The president pointed out the importance of focusing and paying undivided attention to the youth, through intensive training and qualifying programs to enhance their capabilities and potentialities, so that they can be fully prepared to assume the responsibility of building and protecting the aspired southern State.
In the context of his speech, the president Al-Zubaidi touched on the high importance that Al-Mahra governorate represents in the southern national project, stressing that the great sacrifices made by the people of Al-Mahra governorate in process of the southern liberating revolution will remain a source of pride for every southerner.
In turn, the attendees expressed their thanks and gratitude to the president Al-Zubaidi for giving them the opportunity to review the concerns and worries of the people of Al-Mahra, praising his constant keenness to support the people of the governorate to overcome the troubles and difficulties facing them in all fields.