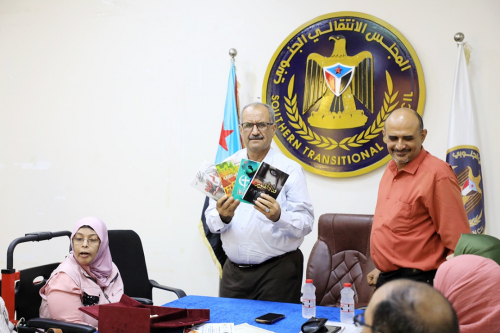 The General-secretariat of the Southern Transitional Council (STC) honours Writer Sarah Adel.
The Culture Department of General-secretariat, on Monday, organized a celebration, in presence of Dr. Mona Basharahel and Dr. Suhair Ali Ahmed, Members of Presidency of the STC, where Mr. Fadl Mohammed Al-Gaadi, deputy secretary-general, stated that we celebrate an overachiever female-youth and an innovative mind missed by many well-being people.
He added: Writer Sarah Adel has proved to all that disability is not an execuse to those who have a determination to gain success and exemplified a vivid hope and meaningful life.
Al-Gaadi congratulated the writer and novelist Sarah Adel on this grand success, well-wished and white-hoped achievements, in the same context affirmed the STC; represented by its General Secretariat assists and supports these young people to be innovative in acquiring knowledge and science.
For his part, Mr. Omar Aqeel, head of the Cultural Department, said
what the writer has presented of literary works, enrich the Southern literary and library, representing innovation, in which she has creatively overcome the disability, become an overachiver and highly deserved appreciation.
For his part, Mr. Adel, the father of Writer Sarah, expressed gartitude for the good reception and honour, as well as he thanked the STC, its General Gecretariat and Cultural Department for this honour and
paying the utmost care to young innovators and creators.
It is worth to mention that the writer Sarah Adel has published numerous short stories, social and cultural novels, and children's stories and gained several Arab and foreign awards.