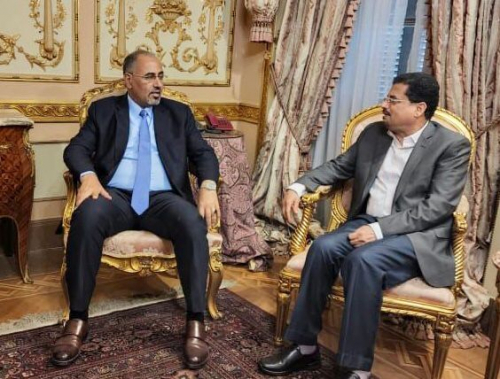 The president Aidarous Qassem Al-Zubaidi, President of the Southern Transitional Council (STC), Deputy head of the Presidential Leadership Council, at his residence in the Egyptian capital, Cairo, on Wednesday, Mr. Abdul-Karim Saleh Shaif, Ambassador at the Ministry of Foreign Affairs, former Deputy Governor of Aden.
In the meeting, the president Al-Zubaidi welcomed Ambassador Shaif, stressing the importance of the southern national alignment to fulfill the upcoming entitlements, ensure achieving the aspirations of our people, and confront the Iranian-Houthi projects.
The president Al-Zubaidi pointed out the STC's openness to all southern forces, parties and personalities, to build a true national partnership; based on the deep-rooted belief in the principle that the South will only be with and for all its people.
For his part, Ambassador Abdul-Karim Shaif expressed his happiness with this meeting, extended his congratulations to the president Al-Zubaidi on the formation of the Presidential Leadership Council, wishing him and leadership of the Council all success.
The meeting reviewed several topics and issues related to the southern concern and efforts of the Presidential Council to confront perilousness of the Iranian expansion in the entire region by Houthi militias; Iran's proxy in Yemen.
The meeting expressed the need to concert all efforts to boost requirements of the stage, alleviate the distress of our people in the South, and strengthen efforts of the government to improve service and lead the battle of development, construction, and reconstruction as urgent national tasks.