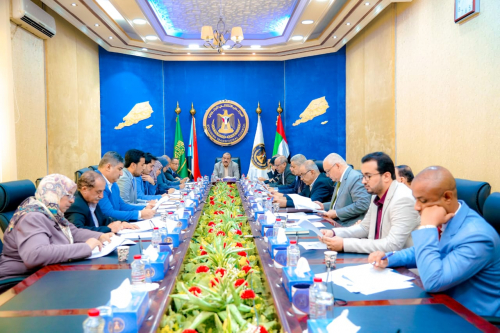 The presidency of the Southern Transitional Council (STC) stressed the importance of expediting the formation of joint negotiating team in accordance with the outcomes of Riyadh Agreement, emphasized rejecting the continued exclusiveness in managing the file of negotiations that are unilaterally conducted; including the ongoing negotiations to extend the UN truce and reopen blocked roads.
The presidency of the STC, in the meeting, held, on Saturday, and chaired by Major General Ahmed Saeed Ben Brik, chairman of the National Assembly, overemphasized the importance of the outcomes of Riyadh Agreement, sponsored by the Kingdom of Saudi Arabia, and the consultations sponsored by the General Secretariat of the Gulf Cooperation Council (GCC) for the States of the Arab Gulf, in the Saudi capital, Riyadh, as an essential references for the consensual political process, noting that any talks of references or agreements have not been participated by the STC are non-binding and insignificant.
In a separate context, the presidency of the STC affirmed its steadfast and incessant position in supporting the efforts to cease the war, bring peace, and endorse the efforts, sponsored by the UN,
to extend the truce, stressing the importance that its extension should be in accordance with obliging conditions, for all parties.
In its meeting, the presidency stood before certain troubles like the continuous shortage of energy supplies in the capital, Aden and other governorates of the South, as well as the ways and mechanisms of providing food stock of wheat, and efforts of the government to confront any crisis might emerge in such aspect.
The presidency called on the power-sharing government to
control the local food stock, establish a mechanism to inspect sale and export process to controlled areas by Houthi militias, and intensify communication with producing countries and coordination with major importers to ensure providing the required quantities of wheat and cooking oil.
In the meeting, the presidency touched on the remaining topics on its agenda, and took the necessary measures in such regard.