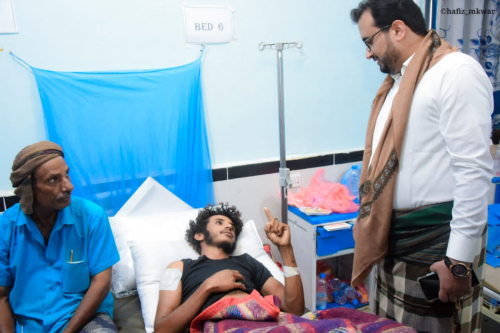 The member of the Presidency of the Southern Transitional Council, Mr. Salem Thabet Al-Awlaki, checked on the conditions of the wounded of the Southern Giants Forces in the hospitals of Ataq in Shabwa governorate.
On his visit to Ataq Hospital and Afia Hospital, Al-Awlaki conveyed the greetings of President Aidarous Al-Zubaidi, the President of the Southern Transitional Council, Supreme Commander of the Southern Armed Forces, to the wounded heroes of the Giants forces participated in the liberation of the three districts of Bayhan, wishing them a speedy recovery.
Al-Awlaki praised the heroism and sacrifices made by these heroes, which were the basis of victory and the strong factor for the liberation of Shabwa from the Houthi militias.
Al-Awlaki listened from the medical staff to explain the health conditions of the wounded, urging them to give the wounded the necessary medical care.
For their part, the wounded of Southern Giants forces expressed their thanks and appreciation to the leadership of the Southern Transitional Council, for the attention it paid to them, following up on their cases, and checking on their conditions.