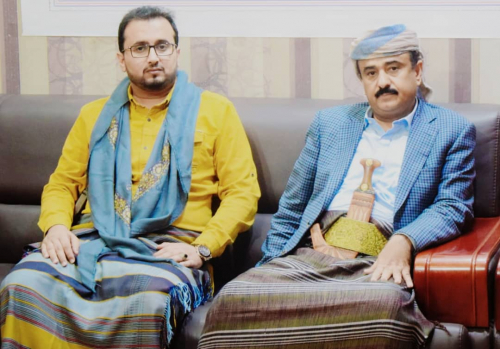 The member of the Presidency of the Southern Transitional Council (STC), Mr. Salem Thabet Al-Awlaki, met on Monday, in the city of Ataq, the Governor of Shabwa governorate, Sheikh Awad bin Al-Wazir Al-Awlaki.
Al-Awlaki exchanged congratulations with the governor of the governorate for the victories achieved by the forces of the southern giants, which culminated in the liberation of the three districts of Bayhan from the Houthi militia, commending the sacrifices made by the heroes of the south on various frontlines.
Al-Awlaki also discussed with Governor bin Al-Wazir ways to normalize life in the liberated areas, and efforts to establish security and stability in all districts, and cut off terrorist forces.
Al-Awlaki stressed the support of the Southern Transitional Council and its support for the governor of Shabwa to heal the wounds of war and the practices of the frivolous forces during the past years.
In this context, Al-Awlaki met with the head of the executive body of the local leadership of the Transitional Council in Shabwa governorate, Brigadier General Ali Ahmed Al-Jabwani.
Thabet expressed thanks to Brigadier General Al-Jabwani and members of the executive body for their efforts during the last period, stressing the need to redouble efforts to keep pace with the requirements of the stage.
The Member of the Presidency Salem Thabet also praised the performance of the executive body in the governorate and the honorable national attitudes of the people of Shabwa, which produced these changes in the governorate.
The meeting discussed the most important issues related to the work of the Council and the partnership with the local authority in order to preserve the security and stability of Shabwa governorate.